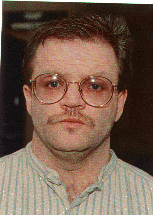 Arden J. Archer
Age: 37
Eyes: Blue
Hair: Brown
Height: 6'
Weight: 220lbs.

A Note From Arden:

""Single Father
Interested in friendship & correspondence. Sometimes it is easier to meet good people in different ways. Let's give it a try. If interested in meeting a halfways decent person drop me a line and I'll return A.S.A.P.
P.S. You're not done writing yet?."

Snail Mail Address:

Arden J. Archer, 69167
E.D.C.F.
P.O. Box 311
Eldorado, KS 67042

or E-mail at FaPenPals@hotmail.com

**Please mention to Arden that you got his name from FA PenPals**


Click Here to go back to the main page.