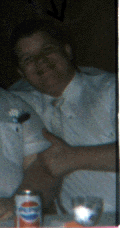 Arlo Barner
Age: 27
Height: 5'5"
Weight: 200Lbs
Eyes: Blue
Hair Color: Brown
RAce: White

Hobbies and Interests

Art, Music, Reading, Adventures, Interested in Looking at an Adventurous Person..

Arlo's Message to You:

"Ladies Only.
I'm currently incarcerated and while here I'm in an adventure as well. I'm looking for a lovely lady between 30 -45 years old to join me in this adventure. What adventure you may ask? Well to know you'll have to write. I hope to hear from you. An adventure is more enjoyable with two people."

SnailMail Address:

Arlo Barner DK-8036
SCI-Cresson
P.O. Box A
Cresson, PA 16699-0001

or E-mail at FaPenPals@hotmail.com

**Please mention to Arlo that you got his name from FA PenPals**


Click Here to go back to the main page.