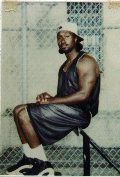 Andrew Brown
Age: 31
Height: 6'0"
Weight: 190 Lbs
Eye Color: Brown
Hair Color: Dark Brown
Race: African American

Hobbies:
Writing, Reading, Music, Poetry, Drawing, Spiritual Awareness, Cultural Development, Working Out, and Stimulating Conversations on All Levels.

Andrew's Message to You:

" "LONELY AT HEART" Death Row inmate. Very sincere and understanding with a good personality and many positive interests. Seeking joyous natured, open minded, compassionate, sincere, understanding, and honest lady for cordial friendship and a little T.L.C. Nationality unimportant. Only sincere replies please. Photo appreciated. Thank you for taking time to read this message. Do take care and I'm wishing upon a star with the hopes of hearing from you soon!"

To see Andrew's Poem click Here

Snail Mail Address:

Andrew Brown, H-36100
5-EB-103
San Quentin
P.O. Box H-36100
San Quentin, CA 94974

or E-mail at FaPenPals@hotmail.com

**Please mention to Andrew that you got his name from FA PenPals**


Click Here to go back to the main page.