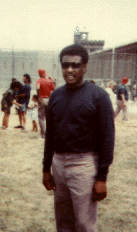 Allen Ross
Age: 40
Height: 5'11"
Weight: 190 Lbs
Eye Color: Brown
Hair Color: Black
Race: African American

Hobbies and Interests: Reading, Doing Legal Work, Exercising, Listening to Music with Realistic Meanings, and I have a variety of other hobbies.

Allen's Message to You:

"Single black male ISO a lady friend 30 to 40 with a sparkling personality and a warm heart of gold. Also she must be mentally stable with a sense of humor and a very good communicator to express herself in an uninhibited way. Race not important. It is what is in your heart that counts and that makes you a very special lady. So, if you fit my description then do not hesitate. Pick up your pen and drop me a line so we can get to know one another in an amicable way as friends."

The Adverse Reality of Being in Prison That Effects Your Life!

In today's society there is a lot of crime and the prison systems in America are filled to capacity and the recidivism rate in correlation to inmates coming back to prison is extremely high in this country where people do not care. As prisons now these days have become high tech with cameras monitoring each and every prisoner most prisons have cameras in the visiting room with the entire visiting room under surveillance with big brother watching each and and every move you are making. And it doesn't stop there. Each of the prison units are under surveillance with cameras watching all the inmates on the blocks in general population of the prison. Inmates have to deal with being under surveillance in the prison yard with cameras and razor wire around the whole entire prison.
In addition life in prison is completely restricted in correlation to having your liberty taken away from you as you are estranged from society. You have to deal with random cell searches and random drug testing and if you can't provide a urine sample in three hours you are put in the restricted housing unit with 30 days to serve with your visiting privileges being restricted behind a glass window for 30 days. There is no exception as you will serve your 30 days in the restricted housing unit.
Moreover while you are in prison your phone calls are monitored and on occasions the prison guards bring in drug sniffing dogs. You are around some prisoners who like being in prison because they do not care about anything because they have given up and accepted prison life. In addition prison life is not conducive to anyone's life.
So if you know someone no matter whether he or she is an adult or young person try your best to discourage them from coming to prison because being locked behind bars is not a place for anyone to be.
So just say no to crime and coming to prison as I truly hope to help someone stay out of prison. And ask the Lord to give you the strength to be strong so He can guide you in the right direction to be a better Christian to stay out of prison so you can be there for your family members so you can encourage them to do the right thing. So just say no to prison and coming to prison.
Written by Allen Ross

SnailMail Address:

Allen Ross, AJ-1152
S.C.I. E-Unit
P.O. Box A
Cresson, PA 16699-0001

or E-mail at FaPenPals@hotmail.com

**Please mention to Allen that you got his name from FA PenPals**


Click Here to go back to the main page.