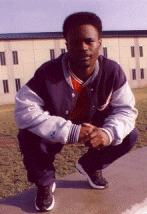 Bobby Bostic
Age: 21
Height: 5'11"
Weight: 163Lbs
Eye Color: Carmel Brown
Hair Color: Black
Race: New African

Hobbies:

Writing Poetry and Letters, Reading, Working Out, Studying Law, Sports, Music, etc. Interests: I am in the process of taking a paralegal course (but have financial problems)...I am trying to get my poetry book published, etc.

Bobby's Message to You:

"Semi-innocent 21 year old (16 years old at the time of arrest), serving 241 years for crimes that were beyond my participation which I'm currently appealing. Seeking friendship and anyone in the legal field to aid me in my plight and fight for my freedom. I'm incarcerated for making the wrong choices in life. Deep down in my heart I long for freedom and "Lord Knows" that I deserve another chance at life outside of prison. I am incarcerated for robbery and assault. I cannot change the past so I try and make a better future for myself and for those people whose futures I play a role in. With the humanity, care and concern in your heart and your assistance my life can be saved. Please write me and learn more of me and my situation. I AM LONELY AND INTERESTED IN HEARING FROM ALL PEOPLE! PLEASE WRITE SOON."

Snail Mail Address:

Bobby Bostic 526795
5-D-166
Crossroads Correctional Center
1115 Pence Road
Cameron, Missouri 64429

or E-mail at FaPenPals@hotmail.com

**Please mention to Bobby that you got his name from FA PenPals**


Click Here to go back to the main page.