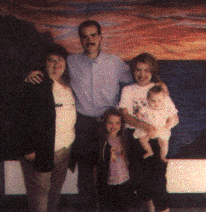 Brian Dukes with his Aunt and Cousins
Age: 26
Height: 6'3"
Weight: 190 Lbs
Eye Color: Brown
Hair Color: Light Brown
Race: White

Hobbies:

Include all forms of exercise & physical conditioning, extream sports, HUGE N.Y. GIANTS fan, great passion and knowledge of outdoors and love of animals especially dogs. Also avid reader and student of military history.

Brian's Message to You:

"Hello!
Basically looking to meet honest, motivated and success driven people who share similar interests, Conservative Christian morals/values and outlook on life. Someone with which to share thoughts, ideas, and companionship in hopes of building a friendship. This is my first time in prison and working hard to make certain it is my last. Meantime, however, I want to meet new people. The only requirement is that you are at least 18 years old and honest with me. There is much more to me than could possibly fit here so if you would like to learn more please feel free to write. Will respond to all letters. For now, best wishes."

Snail Mail Address:

Brian Dukes, J-79876
A-4 #210
M.C.S.P.
P.O. Box 409000
Ione, CA 95640

or E-mail at FaPenPals@hotmail.com

**Please mention to Brian that you got his name from FA PenPals**


Click Here to go back to the main page.