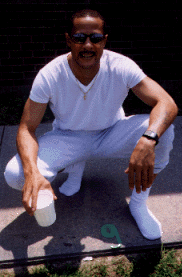 Bernard Johnson
Age: 40
Height: 5'9"
Weight: 176Lbs
Eye Color: Big Brown
Hair Color: Black
Race: Black

Hobbies and Interests
Reading, Thinking, Music, Jogging, Lifting Weights, and I am open to other hobbies.

Bernard's Message to You:

"I'm an open-minded person and an adjustable thinker. I enjoy all types of music. I enjoy fun times and quiet times. And I enjoy acknowledging the unseen hand of our Creator. I miss dearly the words, the beautiful qualites, the warmth, the intellectual powers, the intelligent, the bright, the wise and insightful wisdom of A woman. And the sharing of elevated ideas of her exciting wonderful mind."

SnailMail Address:

Bernard Johnson 118295
Brunswick Correctional Center
B-32
1147 Planters Road
Lawrenceville, VA 23868

or E-mail at FaPenPals@hotmail.com

**Please mention to Bernard that you got his name from FA PenPals**


Click Here to go back to the main page.