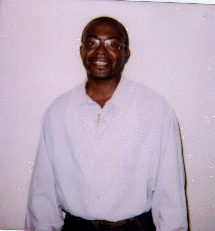 Bernard Smith
Age: 35
Eyes: Brown
Hair: Black
Height: 5'10"
Weight: 200lbs.
Race:Black

Hobbies & Interests:

Politics, Sports, People, Family, Church, Cooking, Communicating, Understanding, and Planning.

A Note From Bernard:

""Dear Community,
My name is Mr. B.L. Smith Chairman of Prime People Party. PPP is a Political Interest Group that rests on great principles. Our goal is to build a major voting constituency amongst Blacks, Women, Jews, Gays and the churches here in California and hopefully across America. We need your support and contributions.
Mr. B. L. Smith is also Chairman of Insights of Sound a 501(c)3 Civil Rights Organization and he along with both organizational committees will protect and represent the Constitutional and Civil Rights of all Californians and Americans to make sure laws are applied equally and candidates are chosen in Politics, not in a pile-of-licks. For more information contact Mr. Smith at address listed below."

Snail Mail Address:

Bernard L. Smith
7055 N. Sepulveda BL. #25
Van Nuys, CA 91405

or E-mail at FaPenPals@hotmail.com

**Please mention to Mr. Smith that you got his name from FA PenPals**


Click Here to go back to the main page.