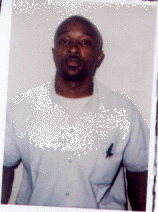 Charles Banks
Age: 33
Height: 5'9"
Weight: 160 Lbs
Eye Color: Dark Brown
Hair Color: Black
Race: Black

Hobbies and Interests:
Love Reading and Writing and Working Out and the Gym and Love Seeking Education.

Charles' Message to You:

"Hello Beautiful Ladies.
I am writing to you all because I want lady pen pals for friends because women are fun to communicate with. Also because they are very special and need for all men to respect them but I am also looking for a woman as a friend that will lead up to a relationship. I am also single. I love to make a woman feel very special. I will never judge you by your looks or how much you may weigh because I understand that true love is on the inside of a person and not the outside of a person. So I am looking how you will treat me."

SnailMail Address:

Charles Banks, B32946
R2 B12
Pinckneyville Correctional Center
PO Box 999
Pinckneyville, IL 62274

or E-mail at FaPenPals@hotmail.com

**Please mention to Charles that you got his name from FA PenPals**


Click Here to go back to the main page.