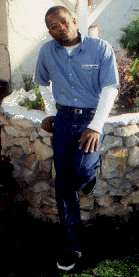 Chris Charles
Age: 30
Height: 5'9"
Weight: 170 lbs.
Eye Color: Light Brown
Hair Color: Black
Race: Island Native

Hobbies and Interests:
Movies, Boxing, Reading, The Entertainment Industry

Chris' Message to You:

"These steel doors and high fences have been my reality for more than 10 years. And I'm looking forward to life outside these prison gates again sometime in the near future. However, one of the things I miss the most is the intimacy of conversing with a woman. So I'm directing my interest in seeking a female friend of understanding. One who is open minded to a new experience. I enjoy stimulating conversation. So with us I hope an encounter can lead to growth and development. I look forward to making your acquaintance. Ages 25+ only."

SnailMail Address:

Chris Charles 0053082
E.D.C.F.
P.O. Box 311
El Dorado, KS 67042-0311

or E-mail at FaPenPals@hotmail.com

**Please mention to Chris that you got his name from FA PenPals**


Click Here to go back to the main page.