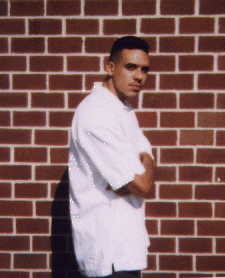 Carlos Cordero
Age: 24
Height: 6'3"
Weight: 185Lbs
Eye Color: Light Brown
Hair Color: Black
Race: Dominican

Hobbies:

Car and Motorcycle Races, Sky Diving, Dancing, Working Out and Learning New Languages. I also play Pro Pool.

Carlos' Message to You:

"My name is Carlos Cordero but people call me Danny-dann. I am a well educated person and also very smart. I mastered four languages such as English, Spanish, Italian and Russian. I consider myself to be a very understanding and caring individual. I am very optimistic and like to think of myself as a very special person, at least that's what everyone around me says. Looking for a white or light complexioned woman no older than 35 which a good sense of humor. She also has to be very optimisitic with good taste. I am interested in finding a friend or maybe a long term relationship. If interested write me."

Snail Mail Address:

Carlos Cordero 98-R-4034
Riverview Correctional Facility
P.O. Box 247
Ogdensburg, NY 13669

or E-mail at FaPenPals@hotmail.com

**Please mention to Carlos that you got his name from FA PenPals**


Click Here to go back to the main page.