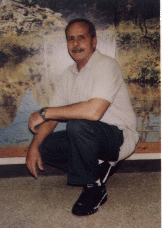 Carl Macedonio
Age: 50
Height: 5'9"
Weight: 190Lbs
Eyes: Brown
Hair Color: Brown
Race: Italian/American

Hobbies and Interests

Glass Painting, Chess, Scrabble, Cross Word Puzzles, Handball, Racquetball, Dominoes, Writing Poetry, Reading, Legal Research.

Carl's Message to You:

"Ladies Only
Single male, never married, degreed, romantic, humorous, communicative, truthful, open minded, adventurous, and lonely; Seeks friendship (maybe long term relatinship in future) with single lady, attractive, open minded, affectionate, truthful, communicative, age open, adventurous. A woman who would desire sharing life's joys and sorrows with me. I can only receive "Snail Mail." Will exchange photos. I am not into playing any head games so please write soon."

SnailMail Address:

Carl A. Macedonio 72A0476
Bare Hill Correctional Institution
181 Brand Rd.
Caller Box 20
Malone, NY 12953-0020

or E-mail at FaPenPals@hotmail.com

**Please mention to Carl that you got his name from FA PenPals**


Click Here to go back to the main page.