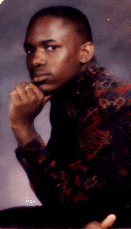 Clarence Maddrick
Age: 25
Height: 6'
Weight: 166 Lbs
Eye Color: Brown
Hair Color: Black
Race: Immortal

Hobbies:

Meeting New People/Seeking Friendship.

Clarence's Message to You:

"RECIPE OF THE PERFECT MAN

1 166lb 6' God
1 Cup of Compassion
1 Cup of Sensitivity
2 Cups of Kindness
Dash of Good Looks
6 oz. Sense of Humor
1 Pint of Honesty
2 Tablespoons of Spirituality
Pinch of Good Sense
32 Teeth
2 Hard Working Hands
Bunch of Bravery
1 Pound of Fitness

Ladies, if you're looking for the perfect man, then follow this recipe and you should come up with a guy like me. But for those that find this recipe impossible to put together, then write to me and I will mail you a sample of the original....Myself! Bon Appetit!."

Snail Mail Address:

Clarence Maddrick, 307899
Everglades Correctional Institution
P.O. Box 659001
Miami, Florida 33265-9001

or E-mail at FaPenPals@hotmail.com

**Please mention to Clarence that you got his name from FA PenPals**


Click Here to go back to the main page.