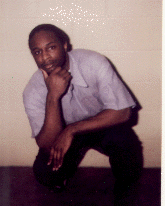 Clinton Nelson
Age: 26
Height: 6'
Weight: 194 Lbs
Eye Color: Black
Hair Color: Black
Race: Black

Hobbies and Interests: Currently they are working out, studying business, law and history, reading, writing and enjoying music.

Clinton's Message to You:

"Hi! My name is Clinton. I'm a 26 year old black male incarcerated for forgery, theft and organized criminal activity. It's not as bad as it sounds. I have 2 years to go and I'm hoping to write a few people, make friends and pass the time away. Any age, race, any sex, any size, any look, it don't matter. Everyone is welcome to write. If you want to send pictures please do. I love to see anything that comes from free society. Bye, I hope you write soon. I'm waiting."

SnailMail Address:

Clinton Nelson 312-559
SOCF
L-2-19
PO Box 45699
Lucasville, OH 45699

or E-mail at FaPenPals@hotmail.com

**Please mention to Clinton that you got his name from FA PenPals**


Click Here to go back to the main page.