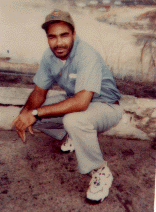 Curtis C. Ovletrea
Age: 31
Height: 6'
Weight: 179 Lbs
Eye Color: Brown
Hair Color: Black

Hobbies:

Reading about Tennis, Star Trek, Stephen King Books, Current Events, Theology, Writing and People .

Curtis' Message to You:

"A lonely decent guy who made a few mistakes and is now paying the price for his behavior. ISO nonjudgemental person willing to take a little time out of their day to write and start a sharing friendship under these harsh conditions and get to know me. NO GAMES! All ages, heights, weights, backgrounds and religions welcome. Mothers welcome! I want to know the different things that are important to you, your dreams, and try answering any questions you may have for me. Hirsute all natural "Paula Cole" type a plus! Photos first letter please. Will answer all who write."

Snail Mail Address:

Curtis C. Olvetrea, 337922
H1-105S
Columbia Correctional Institution
Rt. 7 Box 376
Lake City, FL 32055

or E-mail at FaPenPals@hotmail.com

**Please mention to Curtis that you got his name from FA PenPals**


Click Here to go back to the main page.