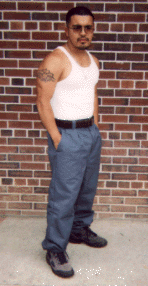 Carlos Sanchez
Age: 25
Height: 5'4"
Weight: 145Lbs
Eyes: Brown
Hair: Black

Hobbies:

Lifting Weights, Reading Novels, Listening to Many Different Kinds of Music.

Carlos' Message to You:

"This lonely Latino is searching for a friendly woman who appreciates the simple things in life as I do. (i.e. friendship, happiness, humor, etc.) I enjoy humor because laughter beats the hell out of crying. Age, race, unimportant while a good character is as well as a great sense of adventure. Based on a foundation of honesty we could become best friends hiding nothing while sharing our dreams. Not much into watching sports but I enjoy staying in shape. Just give me a chance to show I'm one to look over, not one to overlook and let's laugh together before we cry alone."

Snail Mail Address:

Carlos Sanchez 95A3029
Green Haven Correctional Facility
Drawer B
Stormville, NY 12582-0010

or E-mail at FaPenPals@hotmail.com

**Please mention to Carlos that you got his name from FA PenPals**


Click Here to go back to the main page.