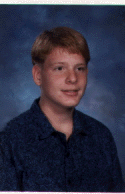 Christopher Soule
Age: 23
Height: 6'2"
Weight: 195Lbs
Eye Color: Green
Hair Color: Honey blond
Race: White

Hobbies:

Chess, Penpals, Reading, Poetry, Religion(Christianity).

Christopher's Message to You:

"Broken young man, incarcerated since the tender age of 14, needs cute female 18-45 to help him heal inside and feel human again...Why are you so hard to find? If you are loyal and compassionate and willing to stand by my side, Please write."

Snail Mail Address:

Christopher Soule, A-265378
Florida State Prison
P.O. Box 181
Starke, FL 32091

or E-mail at FaPenPals@hotmail.com

**Please mention to Christopher that you got his name from FA PenPals**


Click Here to go back to the main page.