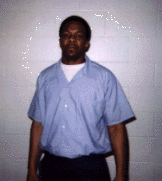 Donny Adams

Age: 38
Height: 6'2"
Weight: 215 Lbs
Eye Color: Brown
Hair Color: Black
Race: African American



Hobbies and Interests: Jogging, Working Out, Reading.

Donny's Message to You:

"Everyone is Welcome To Write.
For the Ladies:
A mature gentleman who is looking for a mature lady friend.
Things about myself:
Kind and loving man. Love to smile and have fun. Enjoy physical activities. Keep a workout schedule. Travel. Like the clothes in G.Q. mag.
Ideal of a good day:
Dinner at fabulous restaurant, barbeque in park. Long walks.
Turn offs:
Laziness, liars, uncleanliness, substance abusers, people who don't know how to have fun.
Want to settle down in marriage.

SnailMail Address:

Donny Adams, N-61312
Pinckneyville Correctional Center
PO Box 999
Pinckneyville, IL 62274

or E-mail at FaPenPals@hotmail.com

**Please mention to Donny that you got his name from FA PenPals**


Click Here to go back to the main page.