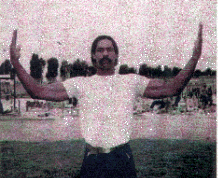 Darwin Billingsley
Age: 42
Height: 6'5"
Weight: 205Lbs
Eye Color: Brown
Hair Color: Black
Race: Black

Hobbies and Interests

Writing, Art, Sports, Music, Politics, Religion, World Events, Friendship and Humor.

Darwin's Message to You:

"Is your heart sincere and open-minded to meeting a new friend absent a false interpretation or unreal image of what a friend is? Someone who would like to relate with people from all walks of life, beginning friendship from a seed and allowing time to blossom its growth??? If this is you, you may discover a compatible connection within our personalities, encouraging your desire to correspond and assist you in determining the validity of my friendship, thus making our writing enjoyable, encouraging and fun!! Smile."

SnailMail Address:

Darwin Billingsley, C-34626
1-D3-19
Folsom State Prison
P.O. Box 715071
Represa, CA 95671-5071

or E-mail at FaPenPals@hotmail.com

**Please mention to Darwin that you got his name from FA PenPals**


Click Here to go back to the main page.