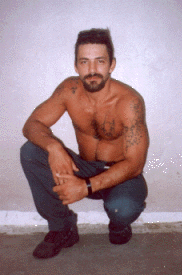 David Jordan
Age: 30
Height: 6'3"
Weight: 215 Lbs
Eye Color: Brown
Hair Color: Brown
Race: White

Hobbies and Interests
Books, Art, Cars, Bikes, Sports, Outdoor Activities.

David's Message to You:

"Solitaire seeking companion...Dreamer seeking romantic....Poet seeking muse....Warrior seeking Princess...
Tall, dark & handsome. Imprisoned since age 19, with a head full of ideas & dreams, hands full of talent & skill, and a heart full of of hope & optimism. Yet, no one to share the span of barbed-wire circumstance, nor experience what the future holds & infuse it with their unique sense of wonder & joy. I exercise daily. I'm physically fit. I'm curious by nature. I write, I draw, I paint and I search for peace & wisdom amidst the chaos of my journey.."

SnailMail Address:

David Jordan 52792
PO Box 107
Ellsworth, KS 67439

or E-mail at FaPenPals@hotmail.com

**Please mention to David that you got his name from FA PenPals**


Click Here to go back to the main page.