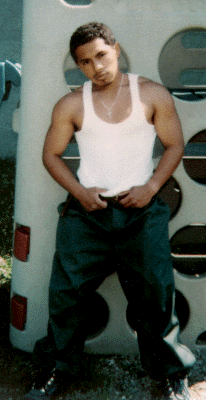 Darwin Reyes
Age: 27
Height: 5'3"
Race: Hispanic or Ecuadorian Descent

Darwin's Message to You:

"I am a single male who has never been married and has no children. I was born in Brooklyn, New York on January 31, 1976, an Aquarius. I have had some college as a business major. I've been in prison almost 10 years with 5 1/2 left. My parole release date is 2009. My conviction was drug related to kidnapping.
My goal is to have a family, kids, write a book, open a business and retire happy and wealthy. I love pets: Cats and Dogs.
I am persistent, funny, humble, honest, caring and very affectionate. Also open-minded and down to earth. I am drug, cigarette, alcohol and disease free.
I am looking for someone who can share my same qualities or better qualities, a woman who can be sincere, honest and looking for a true relationship. No games or tricks. A friends first and relationship minded type woman. She doesn't have to be a specific woman. I do not discriminate on age, gender or height. Education is a must and I would prefer females from 21 to 35, 5' to 5'5", stable and secure. But if anyone older is interested - it is up to you! Let's experience a new relationship that will grow, be mature and share the same ambitions and goals. Let's get to know each other and make our dreams become reality. Willing to relocate. "

SnailMail Address:

Darwin Reyes, 95A7066
Green Haven Correctional Facility
P.O. Box 4000
Stormville, New York 12582

or E-mail at FaPenPals@hotmail.com

**Please mention to Darwin that you got his name from FA PenPals**


Click Here to go back to the main page.