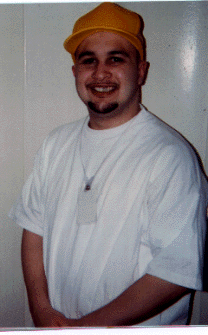 David Ross
Age: 28
Height: 5'6"
Weight: 175Lbs
Eyes: Brown
Hair Color: Brown
RAce: Hispanic/White

Hobbies and Interests

Fishing, Basketball, Knowing Jesus As Much As I Can.

David's Message to You:

"I'm looking for a strong Christian woman who loves to write and can lift my spirits from this living hell. I've been praying for a female to come into my life and praise God a brother gave me this slip. I am not a lifer or on death row. I am not looking for any money. I'm looking for a beautiful lady who will treat me good and has love for Jesus as I do. The friends I do have in here try to get me to back slide so I need help. I will answer all questions. God Bless you and write soon."

SnailMail Address:

David Ross, T-11380
A1-215L
M.C.S.P.
P.O. Box 409000
Ione, CA 95640-9000

or E-mail at FaPenPals@hotmail.com

**Please mention to David that you got his name from FA PenPals**


Click Here to go back to the main page.