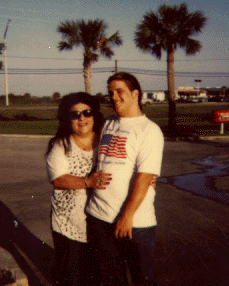 Dominick J. Sims
Age: 28
Height: 5'5"
Weight: 185Lbs
Eye Color: Blue-Green
Hair Color: Brown
Race: White

Hobbies:

Playing Guitar, Singing, Cooking, Dancing, Traveling, Nature, Reading, Poetry.

Dominick's Message to You:

"Ladies Only. I am seeking a friendship and possibly more with that special someone. This woman must be honest, sincere, caring, loving, understanding and must love and appreciate life. I am a man who is very honest, sincere, caring, loving, understanding, eccentric, serious, funny, and very genuine. I will be released within the next year and a half. If you are 18 years of age or older please write. Age, race, looks are irrelevant. Please write soon. Thank you for listening. The photo you see is of my mother and me. I hope you like it."

Snail Mail Address:

Dominick J. Sims, B-794163
B-2209
Santa Rosa Correctional Institution
5850 East Milton Road
Milton, Florida 32583

or E-mail at FaPenPals@hotmail.com

**Please mention to Dominick that you got his name from FA PenPals**


Click Here to go back to the main page.