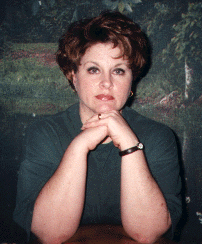 Edwina Coddington
Hair: Blonde (Currently colored Auburn)
Eyes: Blue
Height: 5'4"

Hobbies:
Horse Back Riding, Skating, Cooking, Crafts, Walking on the Beach, Hiking in the Mountains.

Edwina's Message to You:

"Easy going and down to earth lady with blue eyes and dimples. I have a good sense of humor. I'm big hearted and compassionate. Things and circumstances don't keep me down long. I'm very upbeat and energetic. Family oriented and prefer a back yard BBQ rather than clubs and bars.
I'm looking for a sincere honest pen pal to build a trusting, up front friendship with. I'm tired of the games and want someone real in my life. I am a licensed cosmetologist and owned my own business and I would like to reopen it. I would like to do volunteer work and fund raising for children with parents that are incarcerated. I would also like to work with the elderly that have been forgotten by family and friends. I am looking forward to making some nice sincere soon to be friends. Hope to hear from someone soon."

Snail Mail Address:

Edwina Coddington, 09861-051
FMC Carswell
P.O. Box 27137
Fort Worth, TX 76127

or E-mail at FaPenPals@hotmail.com

**Please mention to Edwina that you got her name from FA PenPals**


Click Here to go back to the main page.