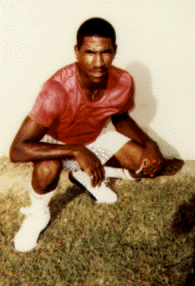 Embery McBride
Age: 35
Height: 5'10"
Weight: 160 Lbs
Eye Color: Black
Hair Color: Black
Race: Black


Hobbies: I like reading writing, doing legal work, meeting new people, doing activist work and collecting photos.

Embery's Message to You:

"All lonely hearts wish to have a friend, companion and possibly more, then answer this ad because I am a lonely heart too. Seek only ladies 26 and up. Race unimportant. Only the sincere need reply. Awaiting your reply. Will answer all!!

Snail Mail Address:

Embery McBride, Ef-207197
Telfair State Prison
P.O. Box 549
Helena, GA 31037

or E-mail at FaPenPals@hotmail.com

**Please mention to Embery that you got his name from FA PenPals**


Click Here to go back to the main page.