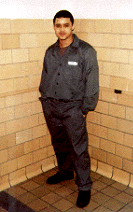 Eugene Perez
Age: 28
Height: 5'6 1/2"
Weight: 163lbs.
Eye Color: Brown
Hair Color: Black
Race: Hispanic

Hobbies and Interests

Chess, Reading, Writing, Music.

Eugene's Message to You:

"I enjoy the challenge of a good chess game as well as the challenge of meeting someone new and interesting. Are you interesting? I equally enjoy reading, writing entertaining and informative letters and consider myself a student of life. I listen to all types of music. I believe that eating healthy and exercising helps promote a sound mind and body. I would like to correspond with you if you share my interests and are adventurous. Are you curious enough and bold enough to write to me? I am confident that you are, so pick up your pen and introduce yourself. Women Preferable."

SnailMail Address:

Eugene Perez, 95A7495
Clinton Correctional Facility Annex
Route 374, Cook St.
P.O. Box 2002
Dannemora, NY 12929

or E-mail at FaPenPals@hotmail.com

**Please mention to Eugene that you got his name from FA PenPals**


Click Here to go back to the main page.