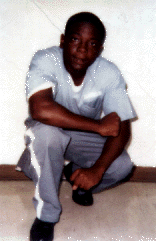 Gregory Dukes
Age: 17
Height: 5'8"
Weight: 170Lbs
Eye Color: Brown
Hair Color: Black
Race: Black

Gregory's Message to You:

"Boo: Ladies Only! Hello, I'm trying my best to find a female or a friend who I can really trust. Furthermore I'm trying to build a friendship and a foundation off honesty and loyalty because a real friendship can never stand falsehood. I don't play with a person's feelings. Things change and people do as well. I hope I have said the right things to motivate you to write. I will like to be your friend and also trigga a future commitment. So as I bring this letter to a close remember troubles are nothing but bubbles and bubbles soon fade away."

Snail Mail Address:

Gregory Dukes M16948
Washington Correctional Institution
4455 Sam Mitchell Dr.
Chipley, FL 32428

or E-mail at FaPenPals@hotmail.com

**Please mention to Gregory that you got his name from FA PenPals**


Click Here to go back to the main page.