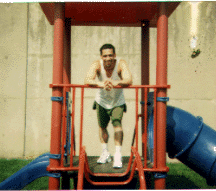 George Guadalupe
Age: 39
Weight: 185Lbs
Eye Color: Brown
Hair Color: Brown
Race: White

George's Message to You:

"Thirty-nine years old, born on 6/15/63 brown haired, brown eyed white male weighing 185 lbs who is in very good health is seeking a friend. I am sincere, fun, advantageous and love to laugh and always be happy. My friend should have a good heart and mind. Hope to hear from you soon."

SnailMail Address:

Mr. George L. Guadalupe, 95A7953
G.H.C.
Drawer B
Stormville, NY 12582-0010

or E-mail at FaPenPals@hotmail.com

**Please mention to George that you got his name from FA PenPals**


Click Here to go back to the main page.