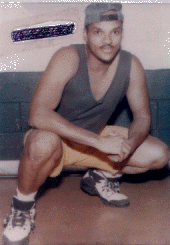 Gregory Hector
Eyes: Hazel
Height: 6'
Weight: 228lbs. of Pure-unadulterated Man
Marital Status: Divorced after 10 years
Graduate of: High School, Street School,
U.S. Army Training, Computer Technician
and Electrician School.

A Note From Gregory:

"Seeking:
U-Who...Hello, Where's all the (200+)lbs. overweight lovers in the house? Especially Mature. All Females are welcome to be outspoken, sharing ideas & thoughts. Owning a sense of humor and exercising common sense is helpful
Loneliness, depression and suicide is nobody's destiny..let's communicate! Individually, each one can & will teach one! Personally, I'm an educated , financially secured Gentleman, Coco complexion with cream. (smile) Seeking only friendship and uplifting low self-esteem women with my inspiring words of wisdom, experience and intellect sprinkled with sincere compassion and more! Hoping against all odds that (Ms.?) and myself can give birth to a child named "Friendship." Milk fed in sincerity and clothed in our blanket of honesty and LOVE.
Respectfully,
Gregory Hector."

Snail Mail Address:

Mr. Gregory Hector 89-A-7311
Drawer B
Stormville, NY 12582

or E-mail at FaPenPals@hotmail.com

**Please mention to Gregory that you got his name from FA PenPals**


Click Here to go back to the main page.