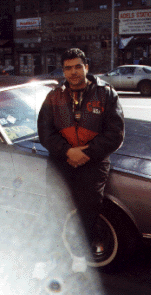 Gilbert Orama
Age: 34
Height: 5'7"
Weight: 195lbs.
Eye Color: Green, Gray, Hazel, Blue
Hair Color: Dark Drone

Hobbies and Interests

I Love Writing, R&B Music, Keeping It Real.

True's Message to You:

"Hi! My name is Gilbert A. Orama but I love to be called True or Eyes. My eyes are green, gray, hazel and blue. I'm Puerto Rican and would love to meet you through paper. Are you willing to take a chance? I won't let you down. I'm a faithful writer and need the same. Are you the one? Let's find out. Try writing to test the waters. It is really not at all cold but just the way it should be. I could just keep it real. I can do no less. Try it. You just might like it...etc."

SnailMail Address:

Gilbert A. Orama 96A 2086
Upstate Correctional Facility
B-24
P. O. Box 2001
309 Bare Hill Rd.
Malone, NY 12953

or E-mail at FaPenPals@hotmail.com

**Please mention to Gilbert that you got his name from FA PenPals**


Click Here to go back to the main page.