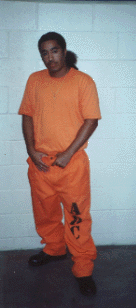 Ismael Ruiz
Age: 25
Height: 5'10"
Weight: 195Lbs
Eye Color: Black
Hair Color: Black
Race: Puerto Rican

Hobbies and Interests

Automobile Sports, Songwriting, Traveling, Working Out, Swimming, Fine Dining.

Ismael's Message to You:

"Along with being a socialist when it pertains to business, I'm free hearted with trustworthy individuals. I enjoy meeting new people who are intriguing. I find pure satisfaction in high energy activities and deep study. I am very outgoing, ready for new experiences and scheduled for release fairly soon. I know the perfect woman for me is somewhere in this world and I'm eager to meet her. Who knows, it may be you! But there's only one way to find out.....Contact can be made at the listed address. You'll receive my response within "3" days. Hope to hear! (smile)."

SnailMail Address:

Ismael Ruiz 142172
3-B-10
ADDC-Yuma Complex/Cocopah Unit
P.O. Box 13005
Yuma, AZ 85366

or E-mail at FaPenPals@hotmail.com

**Please mention to Ismael that you got his name from FA PenPals**


Click Here to go back to the main page.