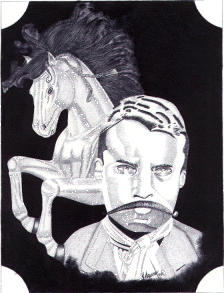 Artwork by Joe Aguero
Age: 29
Height: 5' 11"
Weight: 180 Lbs
Eye Color: Brown
Hair color: Black

Hobbies:
Drawing, Reading, Day Dreaming, and Poetry.

Joe's Message to You:

"Young man looking for friend to correspond with. I have been incarcerated since the age of 17 and 12 of those years have been spent in isolation(S.H.U.) I'm not looking for anything serious, no "relationships" Nothing too overly dramatic. Just a friend with whom I can share a few laughs. I spend 23 1/2 hours a day in a cell. As you can imagine things can get a bit lonely. Wish to find someone who is willing to share a few moments...exchange ideas and correspond."

View Joe's Art

Snail Mail Address:

Joe Luis Aguero, E-22665
D9-107
Pelican Bay State Prison
P.O. Box 7500
Crescent City, CA 95532

or E-mail at FaPenPals@hotmail.com

**Please mention to Joe that you got his name from FA PenPals**


Click Here to go back to the main page.