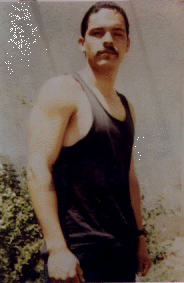 Jose Angelo Aleman
Age: 30
Height: 5'11"
Weight: 179Lbs
Eye Color: Brown
Hair Color: Black
Race: French/Mexican

Hobbies:

Reading, Writing, Comedy, Staying Healthy and Learning New Things.

Jose's Message to You:

"Hello Fellow Net Surfers! My name is Jose A.K.A. Joe. I'm in hopes of locating an adult pen pal to correspond with regardless of age of gender. I would very much enjoy exchanging friendship and life's experiences with a reasonably open minded and semi-honest person. If you are interested in becoming friends or just have questions about prison life in the millenium I would be more than happy to respond to your letters, regardless if you are supreme royalty or living in the projects. It's not what you have or where you are at but who you are on the inside that makes the difference."

Snail Mail Address:

Jose Angelo Aleman, H-84335
D5-115
High Desert State Prison
P. O. Box 3030
Susanville, CA 96127

or E-mail at FaPenPals@hotmail.com

**Please mention to Jose that you got his name from FA PenPals**


Click Here to go back to the main page.