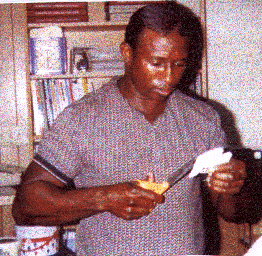 Jimmy Berry
Age: 34
Eyes: Brown
Hair: Black
Height: 5'10 1/2"
Weight: 195lbs.
Race: African American King

Hobbies: Writing, Listening to Contemporary Music and All Sports.

Jimmy's Message to You:

"Athletic 34 year old SBM. I'm incarcerated and lonely but I'm sincere and a caring person. I'm seeking someone who is into honesty and looking for a genuine friendship. Male or Female, your race or age doesn't matter. I just enjoy writing. :) Be out in late 2003."

Snail Mail Address:

Jimmy Berry 519183
Avon Park Correctional Institution
P.O. Box 1100
Avon Park, Florida 33826-1100

or E-mail at FaPenPals@hotmail.com

**Please mention to Jimmy that you got his name from FA PenPals**


Click Here to go back to the main page.