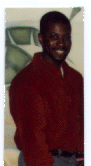 Jabbar Collins
Age: 28
Eyes: Brown
Hair: Black
Height: 5'7"
Weight: 190lbs

Hobbies: I love Biblical Study, Real Estate, Law, Business, Reading, Writing.

Jabbar's Message to You:

"I am a 28 year old, born July 8, 1972. To weep is to risk appearing sentimental. To expose feelings is to risk exposing your true self. To love is to risk not being loved in return. to live is to risk dying. To try is to risk failing. But risks must be taken because the greatest risk in life is to risk nothing. The person who risks nothing does nothing, has nothing, is nothing. Who are you? I'm a Christian man who prays for a Christian woman. Please send a photo with your letter. I'm also open to platonic relationships and would be honored to share and learn with you."

Snail Mail Address:

Jabbar Collins, 95A2646
Green Haven Correctional Facility
Drawer B
Stormville, New York 12582-0010

or E-mail at FaPenPals@hotmail.com

**Please mention to Jabbar that you got his name from FA PenPals**


Click Here to go back to the main page.