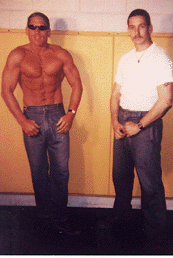 Craig Walton and Jay Earney
Jay Earney
Age: 26
Height: 6'
Weight: 178 Lbs
Eye Color: Hazel
Hair Color: Auburn


Hobbies:
Antiques, Fishing, Camping, Gardening, Martial Arts, Boating, Traveling and Holding Hands.

Jay's Message to You:

"Is life complicated? Friends first. Know me for who I am. I am compassionate, attractive, sincere, family oriented, physically fit, and often wonder if my morals are too "old fashioned" for the world today, but I refuse to surrender my values. I am a machinist by trade and firmly believe in furthering education.

My friend, without the shirt, is Craig Walton, 235491, 1B-14B. He enjoys fishing, camping, biking, martial arts, and romantic movies. Take a chance and write to either one of us for a refreshing, open response."

Snail Mail Address:

Jay Earney, 241475
1B-40B
Dillwyn Correctional Center
P.O. Box 670
Dillwyn, VA 23936

Kenneth Craig Walton, 235491
1B 14B
Post Office Box 670
Dillwyn, VA 23936

or E-mail at FaPenPals@hotmail.com

**Please mention to Jay or Craig that you got his name from FA PenPals**


Click Here to go back to the main page.