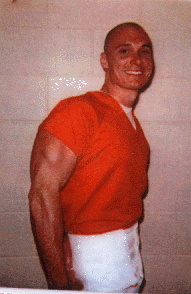 Jack Sliney
Age: 27
Height: 6'
Weight: 230 Lbs
Eye Color: Brown
Hair Color: Brown
Race: Irish/Native American

Hobbies:
Reading, Watching Movies, Opera, Cooking, Sports (watching and participating), Going to the Beach, Candlelight Dinners and much more.

Jack's Message to You:

"Do you have a kind heart and caring soul? Are you looking for an educated - thoughtful - spiritual - sensitive yet strong - passionate .... manly guy? Well - I'm all of those qualities, longing for a Special Woman (for friendship)....A "Lady" to share my interests, dreams, and desires with. Which could possibly lead to more. Ultimately though - one that we could share our light, life and worlds with one another. I'm extremely athletic and a former Martial Arts Instructor. Also - a "Romantic"....and lover of music and dancing, the outdoors and nature and much more. If you are interested please write soon. Ethnicity unimportant."

Please Write to Jack directly at his snail mail address.
Snail Mail Address:

Jack Sliney 905288
P-3-2-10-S
U.C.I.
7819 N.W. 228th St.
Raiford, FL 32026-4430

or E-mail at FaPenPals@hotmail.com

**Please mention to Jack that you got his name from FA PenPals**


Click Here to go back to the main page.