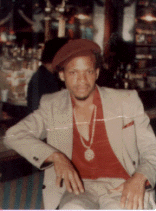 Kerry Malone
Age: 40
Height: 5'11"
Weight: 195 Lbs
Eye Color: Dark Brown
Hair Color: Dark Brown
Race: African American

Hobbies and Interests:
Bowling, Skating, Slow Dancing, Cooking, Basketball, Weight Lifting.

Kerry's Message to You:

"Heaven Ain't Hard To Find!
S.B.M. Christian, age 40, height 5'11', weight 195 lbs., brown eyes, dark brown hair, from Chicago, Illinois, soon to be released (August 2003), never selfish or demanding. Just searching for someone who is interested in developing a warm, loving, serious friendship and if possible maybe more. Also someone who values honesty and not into playing games. Someone who is not judgemental but compassionate and who loves the finer things in life. I promise to keep our conversation positive as well as stimulating.
IF THIS IS YOU PLEASE RESPOND!!
Thank you for reading my sincere request."

SnailMail Address:

Kerry Malone, N13752
R4 C-20
Pinckneyville Correctional Center
PO Box 999
Pinckneyville, IL 62274

or E-mail at FaPenPals@hotmail.com

**Please mention to Kerry that you got his name from FA PenPals**


Click Here to go back to the main page.