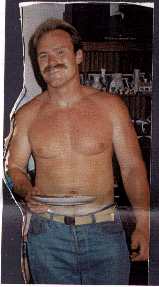 Kerwin Meriweather

Age: 39
Height: 6'
Weight: 210 Lbs
Eye Color: Blue
Hair Color: Brown
Race: White - Irish



Hobbies and Interests: Reading, Fishing, Laughing, Bodybuilding, Traveling.

Kerwin's Message to You:

"Been in prison for 2 years. Get out of prison in 1 year. Looking for friendship. Send regular mail. This prison does not accept internet mail. Thank you."

SnailMail Address:

Kerwin Meriweather, H-45697
D-5-109
44750 60th Street West
Lancaster, CA 93536-7620

or E-mail at FaPenPals@hotmail.com

**Please mention to Kerwin that you got his name from FA PenPals**


Click Here to go back to the main page.