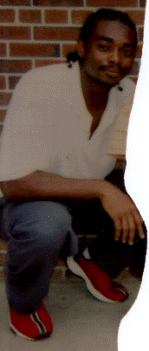 K. Royal
Height: 6'2"
Weight: 195lbs.
Eye Color: Brown

K.'s Message to You:

"Peace to all the women who read this from 18 to 80, blind, crippled, bow-legged or crazy, thick or thin, tall or shorty. But on the real, "Greetings." A S/M 6'2", 195lb. with brown soulful eyes, S.I.N.C. Single,income, no children, very straight forward, down to earth, Age: 44X5+9-198=? Zodiac sign: Virgo. A.K.A. "Finesse." I enjoy stimulating conversations with a woman who is sure and emotionally secure, plus who has character and integrity. So perhaps through your understanding we can establish something truthful and real... So Please holla back with a picture(s) and trust me, "Real people do real things."
Peace."

SnailMail Address:

K. Royal 97A6550
Greenhaven Correctional Facility
P.O. Box 4000
Stormville, NY 12582

or E-mail at FaPenPals@hotmail.com

**Please mention to K. that you got his name from FA PenPals**


Click Here to go back to the main page.