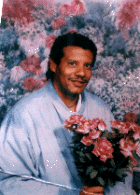 Leon Pogue
Age: 35
Height: 6'3"
Weight: 220lbs
Eyes: Brown
Hair: Black
Race: 1/2Black 1/2German

Hobbies and Interests:
Horse Back Riding, Swimming, Traveling, Moon Light Walks Along the Beach, Reading, Talking.

Leon's Message to You:

"Attention All Ladies:
Please help me dispel a horrible message I am receiving, i.e. that All the good girls, Ladies, and/or Women are either in prison, already spoken for, or outright gay. Prove to me that there are a few good women left in this world that wants to get to know a sincere, fun loving, gentle, handsome man. Write me."

SnailMail Address:

Leon H. Pogue, E-65357
CSP-Solano
8-138-L
P.O. Box 4000
Vacaville, CA 95696-4000

or E-mail at FaPenPals@hotmail.com

**Please mention to Leon that you got his name from FA PenPals**


Click Here to go back to the main page.