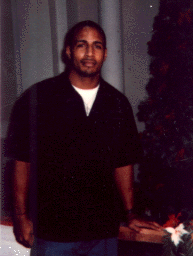 LeVail Smith

Age: 32
Height: 6'5"
Weight: 225 Lbs
Eye Color: Hazel
Hair Color: Black
Race: Black



Hobbies and Interests: Writing Poetry. Reading, Art, Movies, Listening to Music, Walks on Beach, Basketball, Working Out and Running.

LeVail's Message to You:

"100% extremely lovable man coming home soon. I'm an open-minded, undemanding, compassionate, and bright student/ex-marine who loves life. I'm looking for someone not afraid to say what is on their mind, has a good heart and is understanding. Race and age is umimportant as long as you are genuine with me about yourself, your feelings and able to keep the door open for the possibility of a serious relationship. Life is too short so let's find one another and enjoy each other's company while we have the opportunity."

SnailMail Address:

LeVail W. Smith B56763
3-B-30 Pinckneyville Correctional Center
PO Box 999
Pinckneyville, IL 62274

or E-mail at FaPenPals@hotmail.com

**Please mention to LeVail that you got his name from FA PenPals**


Click Here to go back to the main page.