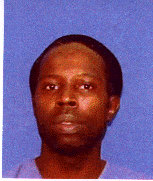 Lewis Taylor
Age: 42
Eyes: Brown
Hair: Black
Height: 6'2"
Weight: 189lbs.
Race:Black

Hobbies & Interests:

Reading, Various Sports, and a Variety of Music.

A Note From Lewis:

"Single, healthy, imprisoned male, intelligent, down to earth, with self assured disposition. Indeed prison intensifies loneliness by its unnatural and restraining nature and leaves within much to be desired. I seek a liberated lady friend to create a meaning from the sharing of our own individuality - will answer all!."

Snail Mail Address:

Lewis Taylor, Jr., 055708
Florida State Prison
P.O. Box 181
Starke, FL 32091

or E-mail at FaPenPals@hotmail.com

**Please mention to Lewis that you got his name from FA PenPals**


Click Here to go back to the main page.