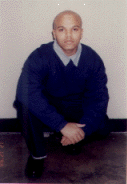 Lamont Thompson
Age: 27
Height: 5'8"
Weight: 160Lbs
Eye Color: Brown
Hair Color: Brown
Race: Black

Hobbies and Interests

Boxing, Football, Poetry, and Writing.

Lamont's Message to You:

"I'm a man amongst men. I'm capable of many things and this would be a perfect opportunity to create a foundation of friendship. Age, race, looks do not matter. Commitment and honesty will suffice. Your letters for mine. All will be answered."

SnailMail Address:

Lamont Thompson, 127943
A.S.P. Yuma - Cocopah
3-D-11-L
P.O. Box 13005
Yuma, AZ 85366

or E-mail at FaPenPals@hotmail.com

**Please mention to Lamont that you got his name from FA PenPals**


Click Here to go back to the main page.