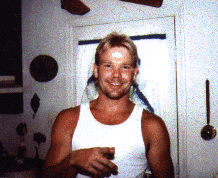 Michael Hubbard
Age: 35
Height: 6'1"
Weight: 205lbs
Eyes: Green
Hair: Blonde
Race: White

Hobbies and Interests:
Sports, Fishing, Movies, Sharing Quality Time with Someone Special

Michael's Message to You:

"I am looking for a friend and maybe more. Someone who is willing to share feelings and things that are going on in their life. Cause as for me my life pretty much ended once I walked through these gates. I do have family outside but it is not the same as a friend that I can share my feelings with. So if you are interested please respond. All letters answered.
Looking for more,
Mike."

SnailMail Address:

Michael Hubbard 304639
Dillwyn Corrrectional Center
P.O. Box 670
Dillwyn, VA 23936

or E-mail at FaPenPals@hotmail.com

**Please mention to Michael that you got his name from FA PenPals**


Click Here to go back to the main page.