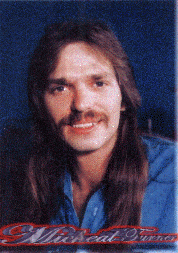 Michael Turner
Michael's Message to You:

"I am an Artist who focuses on the animate, a cartoonist who focuses on the outrageous and an all around easy going fella. I enjoy good humor, laughing, reading, writing and good company. I am a graphic artist/printer by trade, due to be released from the pokey by Christmas of 2003. I'm not sure of what I'll do when I get out or where I'll go. I suppose I'll have to figure that all out soon, but for now I'm mostly concerned about writing you! Any and all correspondence welcome - You can even send hate mail!!."
SnailMail Address:

Michael Turner #39803
H.C.F. East Unit
P.O. Box 1568
Hutchinson, KS 67504-1568

or E-mail at FaPenPals@hotmail.com

**Please mention to Michael that you got his name from FA PenPals**


Click Here to go back to the main page.