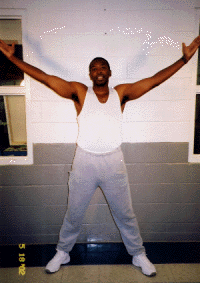 Otis Thompson
Age: 33
Height: 6'
Weight: 180Lbs
Eye Color: Brown
Hair Color: Black
Race: African American

Hobbies and Interests

Romance and Action Packed Movies, Fishing, Reading, Romance Novels, Good Conversation, and Football.

Otis' Message to You:

"Hi. My name is Otis. I'm a SBM , 33 years old, date of birth is 11-2-68, 6', 180 lbs. I'm seeking to meet a very open-minded female for friendship with a great sense of humor. Race, size, age and looks are unimportant. I have been in Federal Prison for the past 14 years. My release date is 2003 and I need a new friend. Please write."

SnailMail Address:

Otis Thompson, 08592-017
FCI Marianna
Creek-B
P.O. Box 7007
Marianna, FL 32446

or E-mail at FaPenPals@hotmail.com

**Please mention to Otis that you got his name from FA PenPals**


Click Here to go back to the main page.