PEN PALS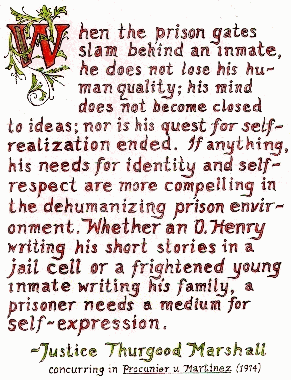 To Be A PenPal You Must Be At Least 18 Years Of Age.

Alphabetical Listing of States


Arizona California Delaware Florida Georgia Illinois Kentucky Michigan Missouri New York North Carolina Pennslyvania Texas Utah Virginia Wisconsin
Special Interest
Free Friends


Arizona

Richard LaTrace.- Wish to share my feelings.
Janal Lawson.- I need someone to communicate with me so please write."

California

Yafeu Iyapo-I S/N L. Alexander.- Never forget.
Andrew Brown.- On Death Row, Wishing on a star to hear from you.
Michael DeFrangesco.- I'll answer all letters. Can't wait to hear from you.
James Diesso.- Songwriter and Poet seeking friendship only.
Brian Dukes.- Seeking someone special to exchange letters.
M. Sabre Hill.- On Death Row, lonely and seeking a true friend.
Steven A. Lacey.- Seeking long-term friendships.
James McNally.- Like Motel 6, the light is on and I'm always home.
Ibrahn Miranda.- Latino seeking to establish friendship.
Robert W. Reed.- In search of friendship so please write.
Joshua Wandrey.- Christian, seeking gentle soul to write.
Glen White.

- Seeking friendly correspondence.

Florida

Pete Arocho.- Come share my world.
Jim Chandler.- On Death Row seeking a few sincere friends to correspond.
Carlos Corrales.

- Would love to communicate in Spanish but am also very willing to write in English. Please write this lonely man.
Rufus Hatten.- Wish to share my most profound inner thoughts. Please write.
Richard Humiston.- Wants friendship with men or women. Please communicate.
Lakeith Sharif.- Profound desire to communicate.

Georgia

Embery McBride.

- Seeking ladies for friendship.
Dwayne C. Singletary.- Interested in building friendships.

Illinois

Carlos Ramirez.- Seeking friendships to share thoughts.

Kentucky

Maurice Moberly, Sr.- Hoping to befriend someone. All positive responses welcome.

Michigan

Jeffery Dye-El.- If you seek you will find beauty. Please write me.
Chief Maqua Hale.-Great Grandson of Chief looking for friendship.

Missouri

Trevin Gamble.- Need legal help and a caring friend.

New York

Frank Heid.- Tempt the hand of fate, Write me.

North Carolina

Ricky Brock, Paul Mason, Donnie Jones, Chris Kivett, Robert Littlefield.- SEEKING JUSTICE.

Pennslyvania

Ralph Blair.- Lonely, please write.

Texas

Terry Lynn Anderson.

- Fun loving country girl wishes to correspond
Marvin Henry.

- Seeking a few real friends.
Fred Lampkin.-Seeking a genuine person to communicate, please write.
Emilio Montoya.- Please write, any age, sex or race.
Gerald Mose.- Christian group leader seeking support for group members through letters and cards.
Aaron Otto.- Wanted: A fun person to talk to.
Alan Swor.- Christian, seeking friendship.
Jeffery P. Toms.- Will answer all. Please write.
Rafael Vasquez.- Veteran seeking thought provactive correspondence.
Cheri L. Welch.- Comapssionate lady with a heart full of life waiting to hear from you.
Melissa Young.- Looking for friendship possibly more. Please write.

Utah

Joe Chandler.- Age, race, gender unimportant, please just write.
David H. Westmoreland.

- Outlaws love ladies.

Virginia

Tom Hill.- Want to continue my education. Help me please.
Lindy C. Lucas.- Want a friend to write.
Dr. Fred Smallwood.- Needs your prayers.
Allen White.- New Christian seeking someone to write.

Wisconsin

Edward C. Fitzpatrick.- Christian looking for a real friend from anywhere.

Special Interest

Joe Chandler.- Will do Artwork for you.
Trevin Gamble.- Legal Aid.
Roger Dale Grubb- Seeks Attornies, Law Students.
Tom Hill- Educational Aid.
Embery McBride- Legal Aid and Activists.
Gerald Mose- Christian leader seeking spiritual support for members of his prayer group.
Ricky Brock, Paul Mason, Donnie Jones, Chris Kivett and Robert Littlefield- North Carolina Prisoners Seeking Justice, Please help.
LaKeith Amir-Sharif- Looking for these books.
Mr. Rafael Vasquez- Seeking Legal Aid.


Free Friends

Jamáal W. Allah.- Looking for a special lady for friendship.
Martin Hamilton- Seeking open honest friendship.




Back to the top.

Click Here to go back to the main page.