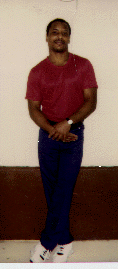 Paul A. Hale
Age: 43
Height: 5'11"
Weight: 205Lbs
Eye Color: Brown
Hair Color: Black
Race: Black


Hobbies and Interests

Reading, Writing, Chess, Studying History and Exercising.

Paul's Message to You:

"I'm interested in corresponding with a mature female, preferably age 35 to 50. However will respond to all correspondence. Seeking stimulating conversations, dealing with life issues and other mature subjects."

SnailMail Address:

Paul A. Hale, 202-265
878 Coitsville Hubbard Rd.
Youngstown, OH 44505

or E-mail at FaPenPals@hotmail.com

**Please mention to Paul that you got his name from FA PenPals**


Click Here to go back to the main page.