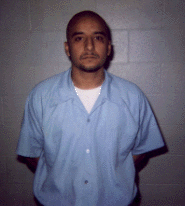 Rene Aguilar
Age: 25
Height: 5'4"
Weight: 155Lbs
Eyes: Brown
Hair Color: Black
Race: Hispanic (Mexican)

Hobbies and Interests

Reading, Writing, Playing Softball.

Rene's Message to You:

"I'm looking for a sincere person who I can talk to about anything. Someone who is willing to listen and understand and in return I'm willing to do the same. Race and age unimportant. Please write, thank you. Bye-Bye."

SnailMail Address:

Rene Aguilar, B-69509
Pinckneyville Correctional Center
P.O. Box 999
Pinckneyville, IL 62274

or E-mail at FaPenPals@hotmail.com

**Please mention to Rene that you got his name from FA PenPals**


Click Here to go back to the main page.